Our growing membership of accredited Wine Judges includes men and women from the Ontario communities of Toronto, Ottawa, London, Kitchener, Hamilton, Niagara, Prince Edward County and New York as well as certified judges in Quebec, Nova Scotia and British Columbia. Our accredited WJC judges are in demand across Canada and the U.S., where their skills contribute to the growing knowledge of wine and winemaking.                                                                                      

(Highlighted names link to Bios)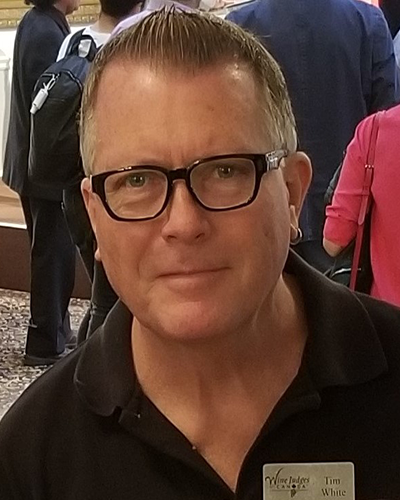 Tim White
EXECUTIVE MEMBER – CHAIR
Tim studied at University of Guelph's Viticulture program while working as a sales rep for Hillebrand Estate Wines. He became a member of the Amateur Winemakers of Ontario in 1995 and has since achieved "Ultimate Master Vintner" and "Master Cider Maker" status. After being selected " Wine Taster of the Year" in 2000, Tim enrolled in and completed the Wine Judges of Canada's extensive certification program and has been actively judging amateur and professional competitions since 2002, the most recent being the Lake Erie North Shore Wine Competition, the International Pinot Challenge, the Canadian Cider Awards, Ontario Wine Awards Competition, and the All Canadian Wine Championship. Tim was appointed Vice Chair for the Wine Judges of Canada in 2017 and Chair in 2019.
Patti Polfuss
EXECUTIVE MEMBER – VICE CHAIR
Patti became a Certified Wine Judge of Canada in 2009, judging wines and ciders at local, provincial, national and international levels. She became Vice Chair of the Wine Judges of Canada in 2019 and the Training Director/Program Designer for the WJC Certification Course in 2020. Patti's Master's Degree work in Curriculum Design at Brock University allowed her to adapt curricula for training judges across the province. Patti is Past President of Amateur Winemaker's of Ontario, and is a Grand Master Cider Maker and Ultimate Master Vintner. For 26 years she owned and operated a Ferment on Premise, Simply Fine Wine, where she offered training in making Meads, Ciders and How to Make Wine
Craig Fleming
EXECUTIVE MEMBER – TREASURER
Craig is a Certified Wine Judge with Wine Judges of Canada and a past winner of "The Wine Tasting Challenge". Craig shares his passion of wine through the creation and presentation of wine education seminars, including Kosher Wines & he has led several seminars at the "Gourmet Wine & Food Show" in Toronto. Craig has judged amateur and commercial wine competitions in Canada and United States. He has achieved the Advanced Certificate from Wine and Spirit Education Trust, is an amateur winemaker, former "Director of Events for the Ontario Wine Society" and has been a Certified Wine Judge since 2010. Craig took on the WJC Treasurer position in 2020.
David Sykes
EXECUTIVE MEMBER – SECRETARY
David has been making wine as an AWO member for over a decade achieving "Grand Master Vintner" status. He was involved as an AWO steward for many years working such events as the Lake Erie North Shore Wine Competition, The International Pinot Challenge, and the AWO Provincial Competition before obtaining his WJC Certification in 2020. David was a Communication (Media) Director before becoming Secretary for the WJC Executive in 2022.
Vic Harradine ( Sommelier and Publisher) www.winecurrent.com
Bruno Meneguzzi (Sommelier)
Debbie Templeton (Sommelier)
Chris Bell
Francois Cote

Joe Dale

Jeff Dawkins

Jean Farrall

Peter Ferguson

Stephen Gillespie

Dominic Ierullo

David Kroetsch

Sheila Lauzon
Sebastien Mailloux

Alan McClelland

Don Panagapka

Steve Quast

Dan Stevenson

John Tummon

Alan Uffelmann

Rick Schofield (Honorary – Sommelier – N.Y.)

David Male (Honorary)

Peter Pigeon (Honorary)

Steve Gunning (Honorary)
Bill Thornton (Honorary)
 Steven Elphick (Honorary) – www.stevenelphick.
This link button will take you to your WJC email. Have your address and password handy.